Organized by Costas Bachas (LPENS), Semyon Klevtsov (Univ. Strasbourg), Nikita Nekrasov (Simons Center for Geometry and Physics & Stony Brook) and Emmanuel Ullmo (IHES), the "MikeFest: a conference in honor of Michael Douglas" will take place from May 9 to 13, 2022.
Registration until: May 3, 2022.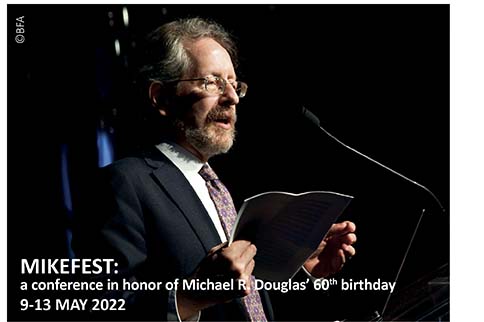 We are organizing a conference at the IHES on the occasion of Michael R. Douglas' 60th birthday.
Mike has a long association with IHES, as a visiting professor in 2000-2008 (Louis Michel Chair), by leading the US-based fundraising effort, and as a president and chairman of the Friends of IHES in 2013-2021.
The conference will cover the topics on which Mike has worked and made profound contributions: string theory, matrix models, physical mathematics, and machine learning.
Covid-19 regulations: seats in the conference center are limited to 70 people. The conference will also be available via Zoom.
---
Invited speakers:
Vijay Balasubramanian, Univ. of Pennsylvania
Alexander Belavin, Independent Univ. Moscow (TBC)
Ilka Brunner, Univ. München
Alain Connes, IHES & Collège de France
Frederik Denef, Columbia Univ.
Bartomeu Fiol, Univ. de Barcelona
Jaume Gomis, Perimeter Institute (TBC)
Sasha Gorsky, IITP RAS, MIPT
Chris Hull, Imperial College
Shamit Kachru, Stanford Univ.
Volodya Kazakov, LPENS
Maxim Kontsevich, IHES
Patrick Massot, LMO - Univ. Paris-Saclay
Luca Mazzucato*, Univ. of Oregon
David McAllester, Toyota Tech. Inst. Chicago (TTIC)*
Liam McAllister, Cornell Univ.
Greg Moore*, Rutgers Univ.
Rémi Monasson, LPENS
Eliezer Rabinovici, Hebrew Univ. of Jerusalem
John Schwarz, CALTECH
Nathan Seiberg*, IAS
Steve Shenker*, Stanford Univ.
Eva Silverstein*, Stanford Univ.
Christian Szegedy, Google Research
Washington Taylor*, MIT
Alessandro Tomasiello, Univ. Degli Studi Di Milano Bicocca
Josef Urban, CIIRC
Steve Zelditch*, Northwestern Univ.
* remote talks
Registration
Registration for this event is currently open.