Le GdR Ondes Gravitationnelles a été crée en 2017 avec le but de rassembler la communauté scientifique intéressée par l'exploration de l'Univers avec les ondes gravitationnelles, et de lui fournir des occasions de rencontres et de discussions communes.
La quatrième assemblée générale du GdR Ondes Gravitationnelles aura lieu à Paris, à L'Institut Henri Poincaré, au cours du programme de six semaines "Gravitational waves: a new messenger to explore the universe". Elle couvrira les thèmes d'intérêt du GdR, représentés par ses Groupes de Travail.
L'inscription à cette réunion est obligatoire avant le 28 février 2021. Si vous travaillez dans un laboratoire français veuillez, au préalable, devenir membre du GdR en vous inscrivant sur le site http://gdrgw.in2p3.fr/
La date limite pour envoyer une contribution est le 28 février 2021.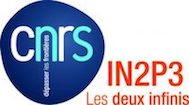 Registration
Registration for this event is currently open.
The call for abstracts is open
You can submit an abstract for reviewing.